Found this great post for you by Katie at, ombow – have fun!! http://blog.tombowusa.com/2017/09/15/galaxy-color-combos/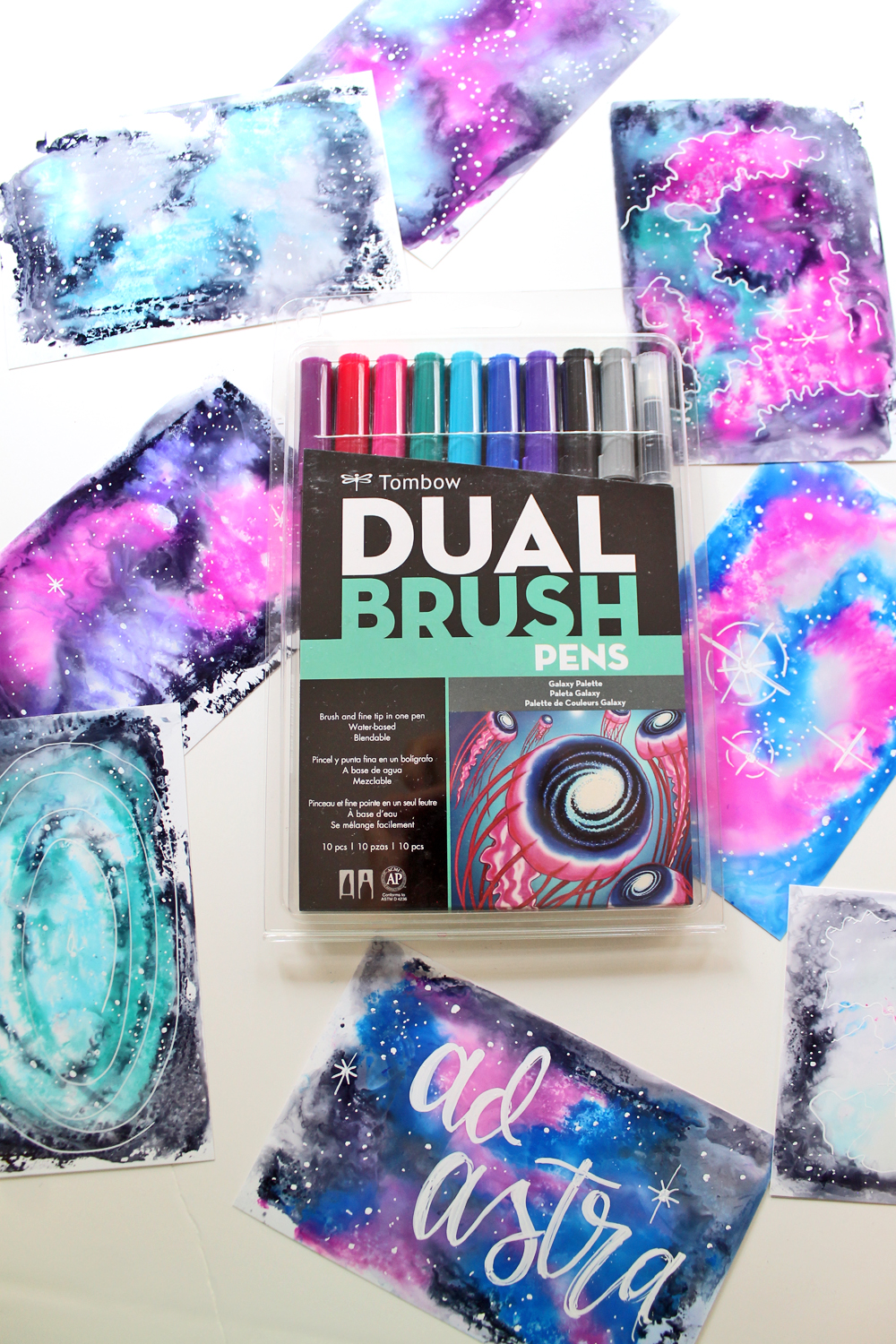 Wave your hand if you love galaxies! Katie here and I have been in love with the galaxy trend for a while now and when I saw that Tombow was releasing a galaxy themed set for the Dual Brush Pens I got major heart eyes!
If you missed the release – Tombow recently released two new Dual Brush Pens sets: Galaxy and Pastel!
Today I am showing you different color combinations you can use with the Galaxy and Pastel set to create 10 different galaxies.
How to create a galaxy using the Splash technique:
Before I get to the color combinations, here's a mini tutorial on how to create a splash galaxy using the Dual Brush Pens. This is my favorite technique that I learned from fellow design team member Marie Browning!
Supplies:
Dual Brush Pens: Galaxy Set, Pastel Set
Blending Kit
Glossy Photo Paper
White Pen
Step one:
Apply Dual Brush Pen ink onto the Blending Palette. You can scribble the different colors around however you like, different ink placement will create different galaxies.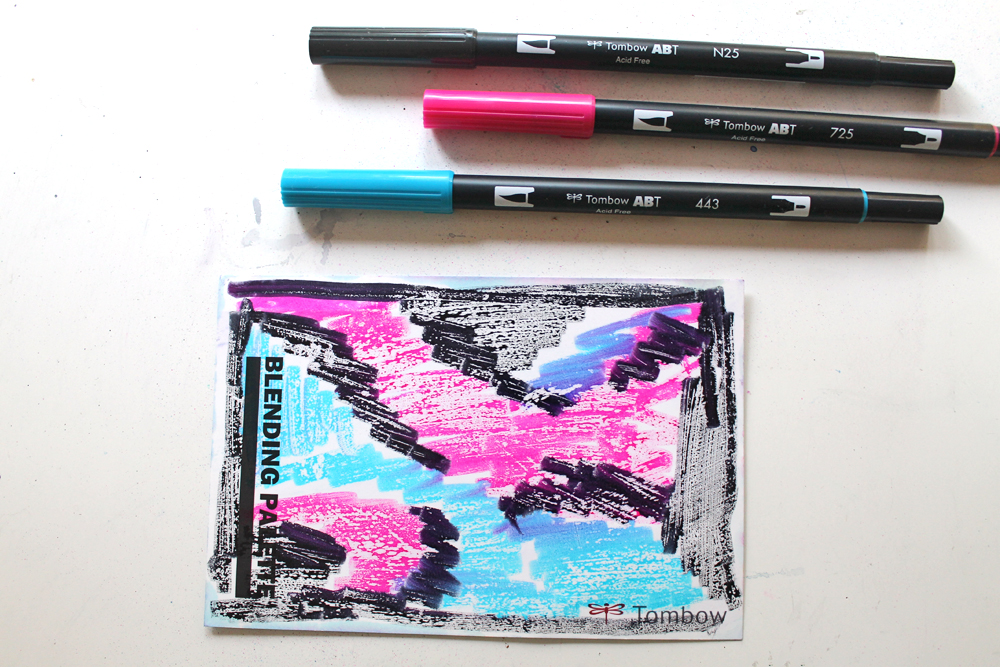 Step two:
Spritz the Blending Palette with water, this will cause the ink to bead up and pool.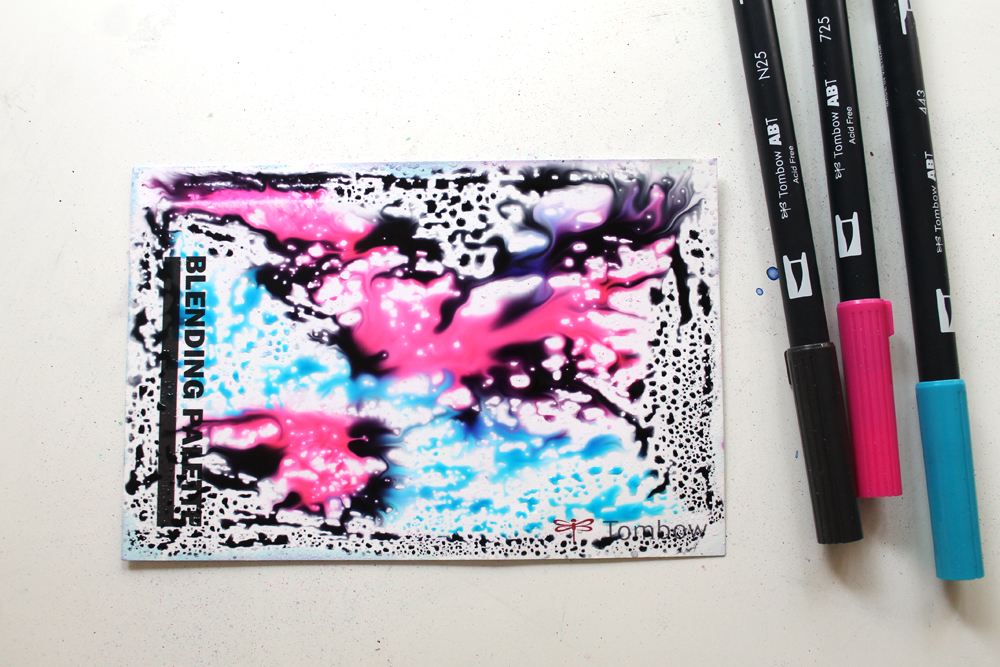 Step three:
Press a piece of glossy photo paper face down onto the blending palette. You can swirl it around a little bit to help transfer the ink to the photo paper.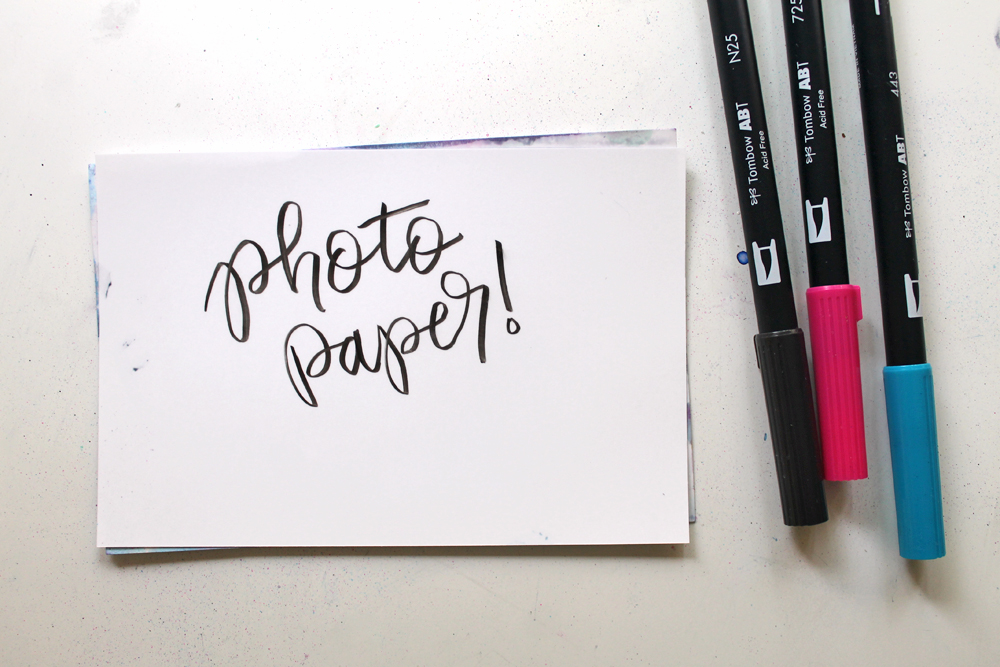 Step 4:
Peel back the photo paper and reveal the galaxy! Photo paper is designed so that the ink dries instantly. So wipe away any remaining water and you've got a starry scene!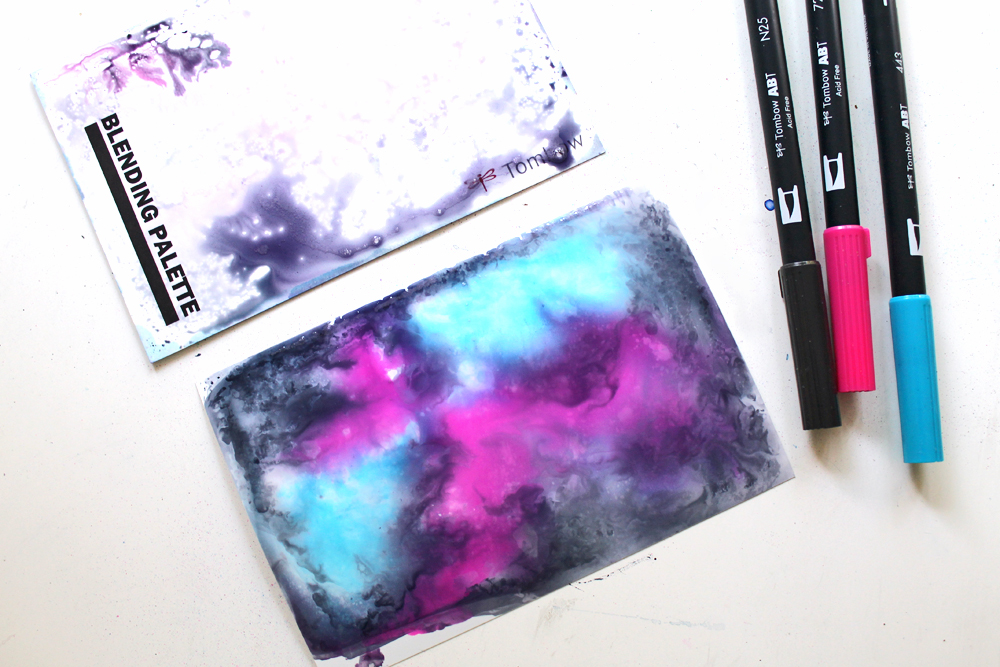 Design Team member Jennie shared another fantastic way to create the galaxy look in this post.
Galaxy Color Combinations:
The Galaxy Dual Brush Pen set comes with 9 colors, but you can combine them in different ways to create such a variety of galaxies. Here are the combinations I came up with:
Dual Brush Pen colors: 606, 725, N25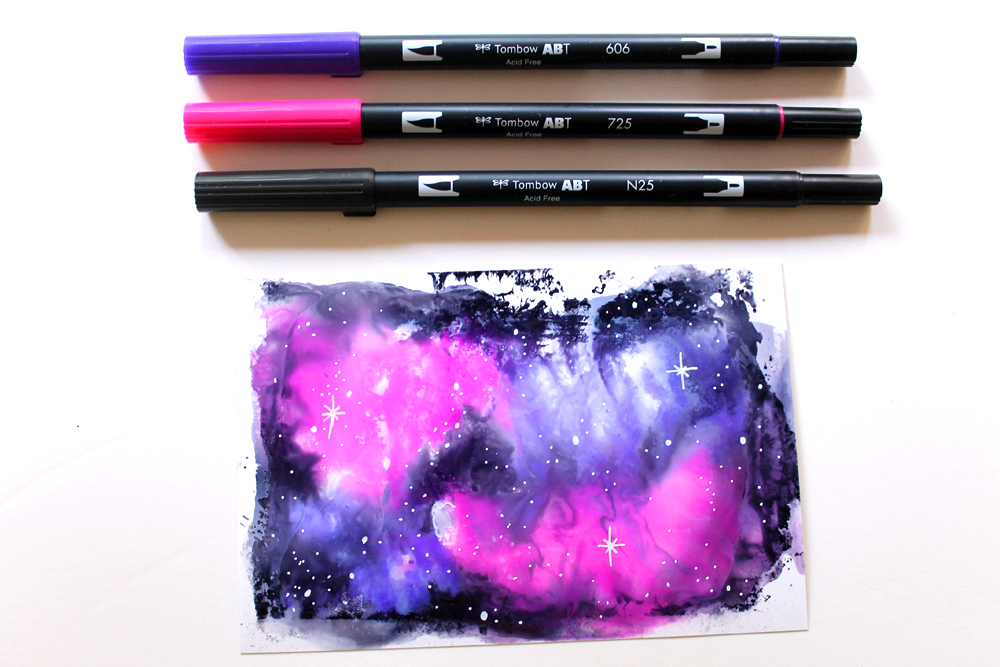 Dual Brush Pen colors: 676, 555, N25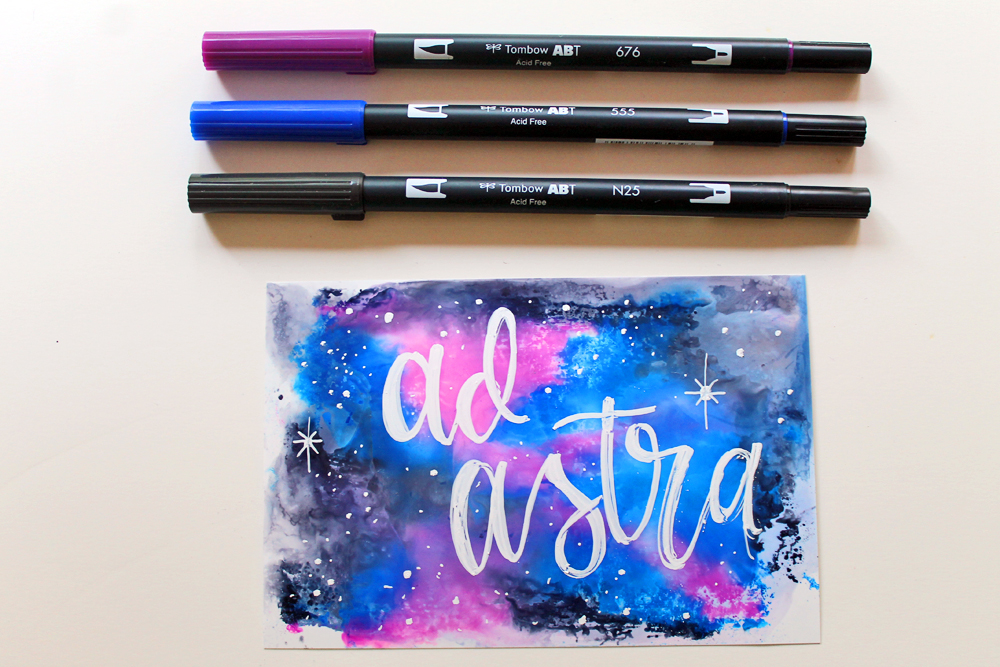 Dual Brush Pen colors: 443, 346, N25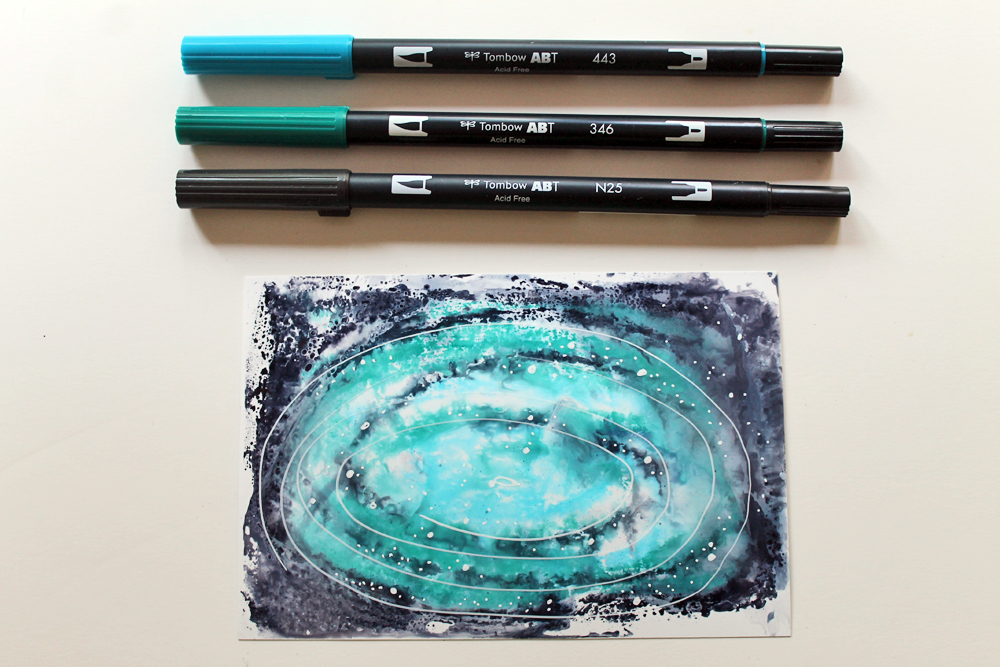 Dual Brush Pen colors: 443, N55, N25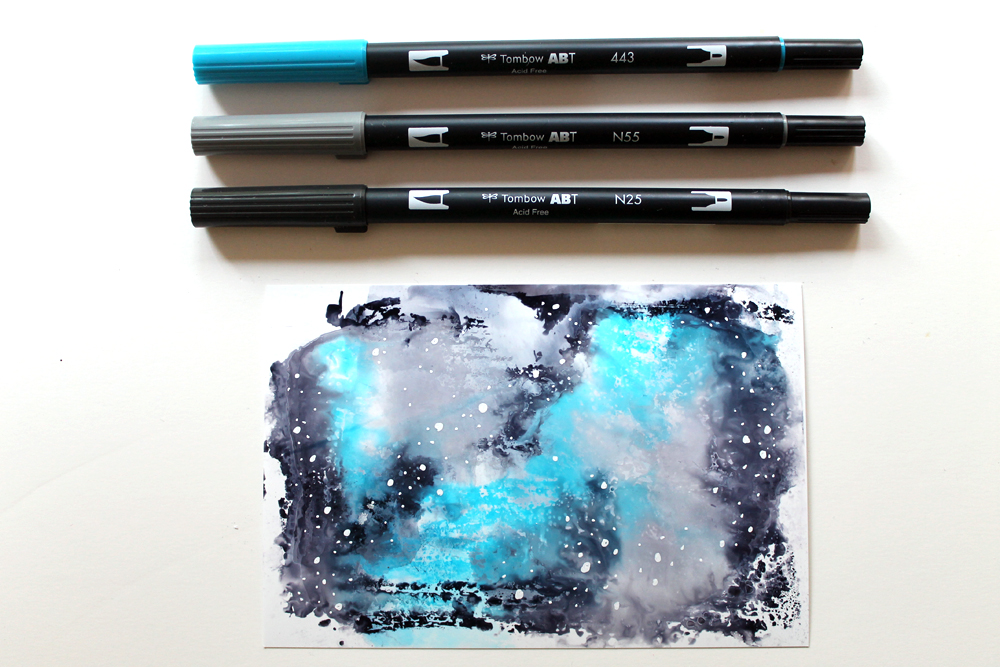 Dual Brush Pen colors: 346, 755, N25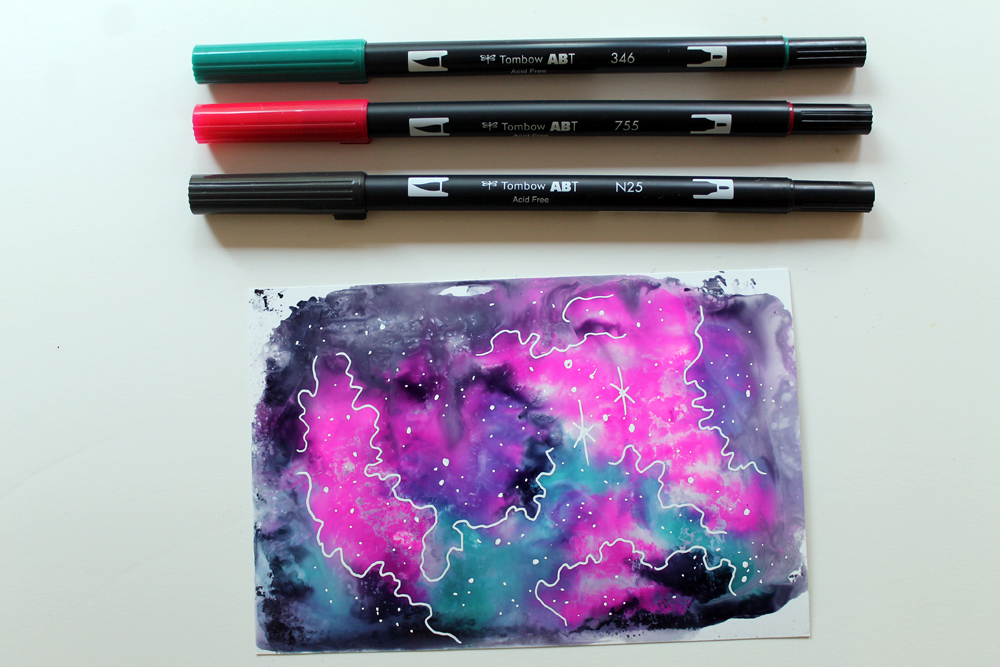 Dual Brush Pen colors: 725, 443, N25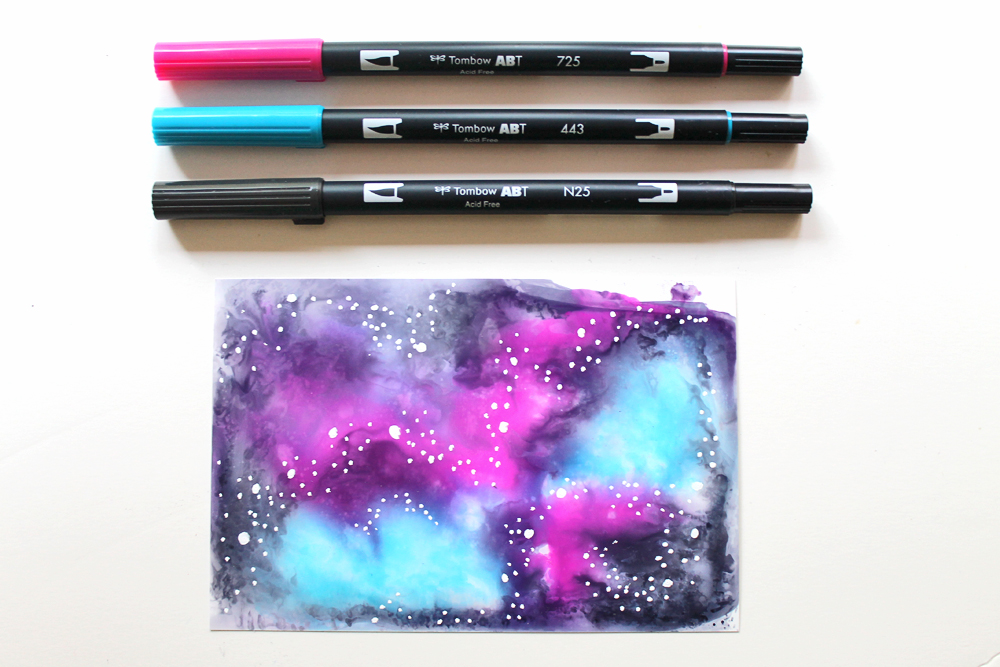 Dual Brush Pen colors: 755, 555, N55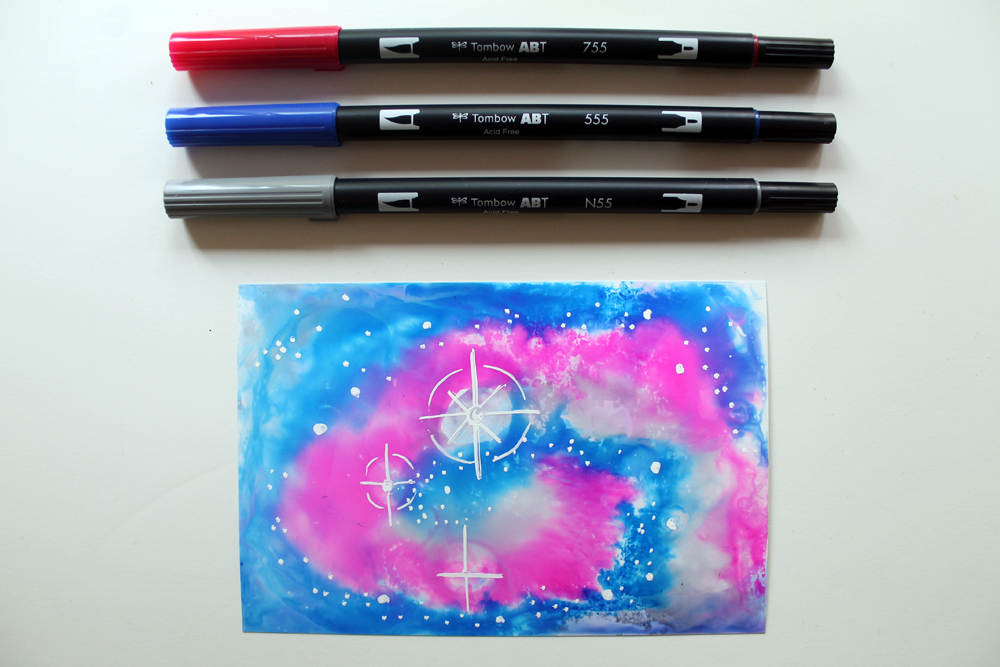 When creating galaxies, It's likely that the markers you first grab for wouldn't be pastels, but why not? Pastels can create amazing galactic scenes just as well as the deeper colors.
Here are a few of the color combinations I created using the Pastel set, as well as the N25 Dual Brush Pen.
Dual Brush Pen colors: 991, 723, 620, N25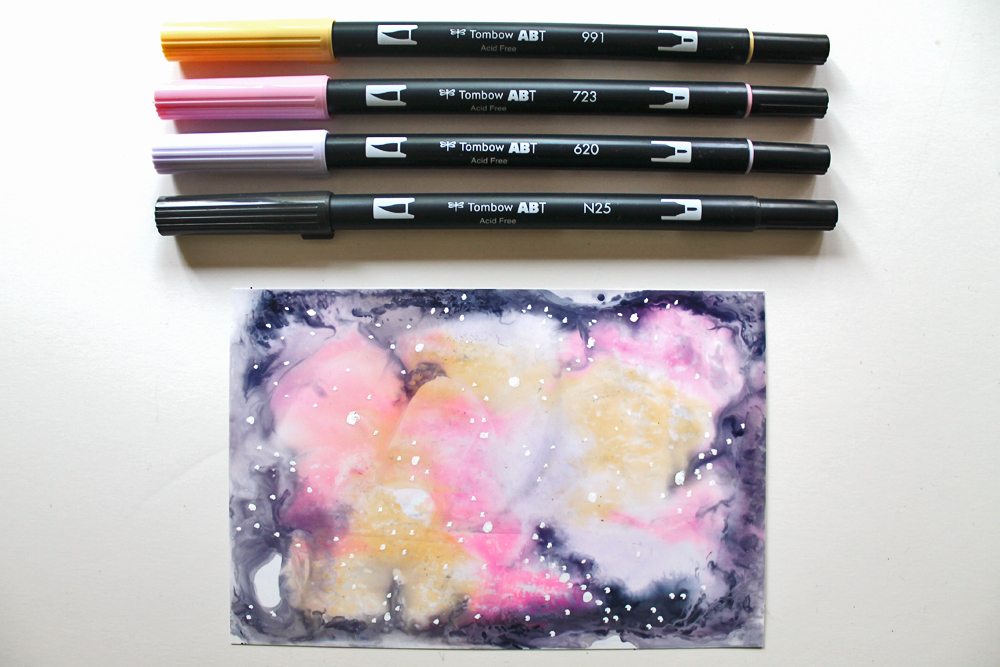 Dual Brush Pen colors: 243, 452, 553, N25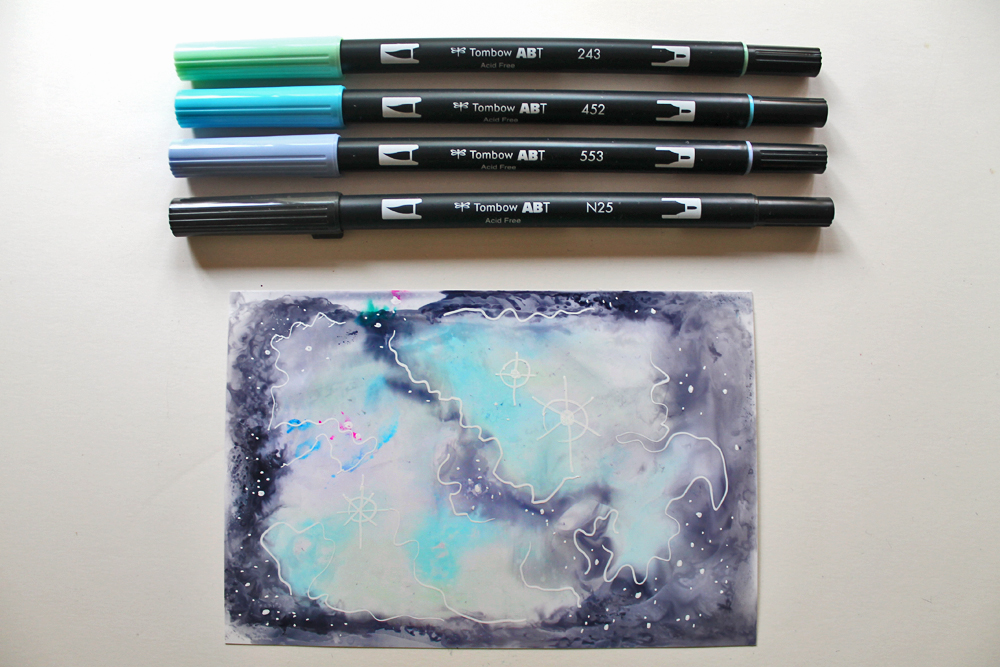 Dual Brush Pen colors: 243, 452, 723, 620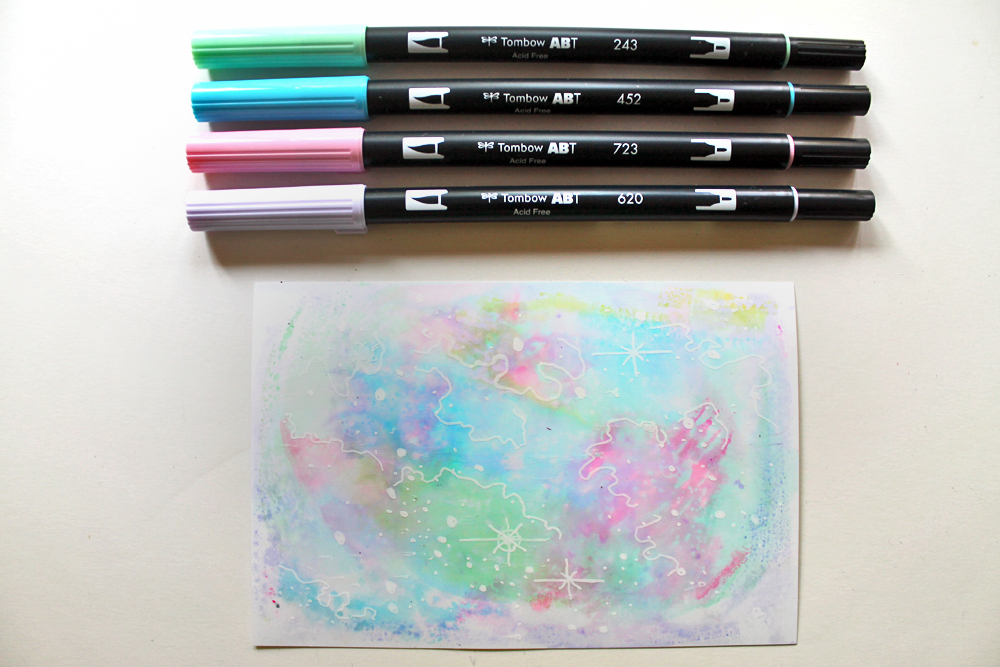 For this pastel galaxy silhouette I actually used All of the colors from the Pastel Dual Brush Pen set. The pastel colors do make for a very light galaxy, but I'm loving the soft effect they give.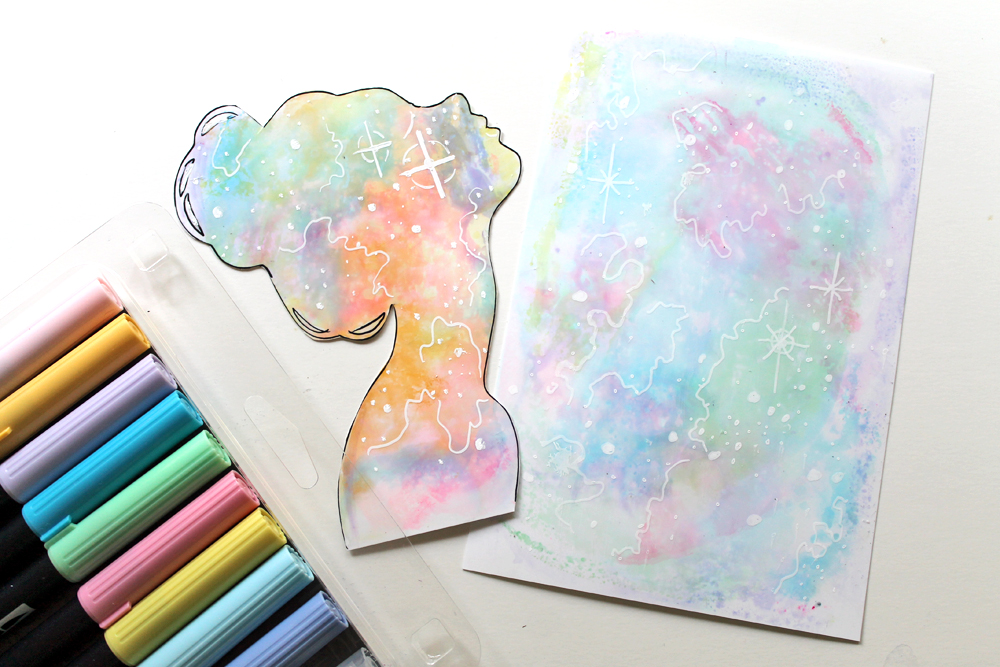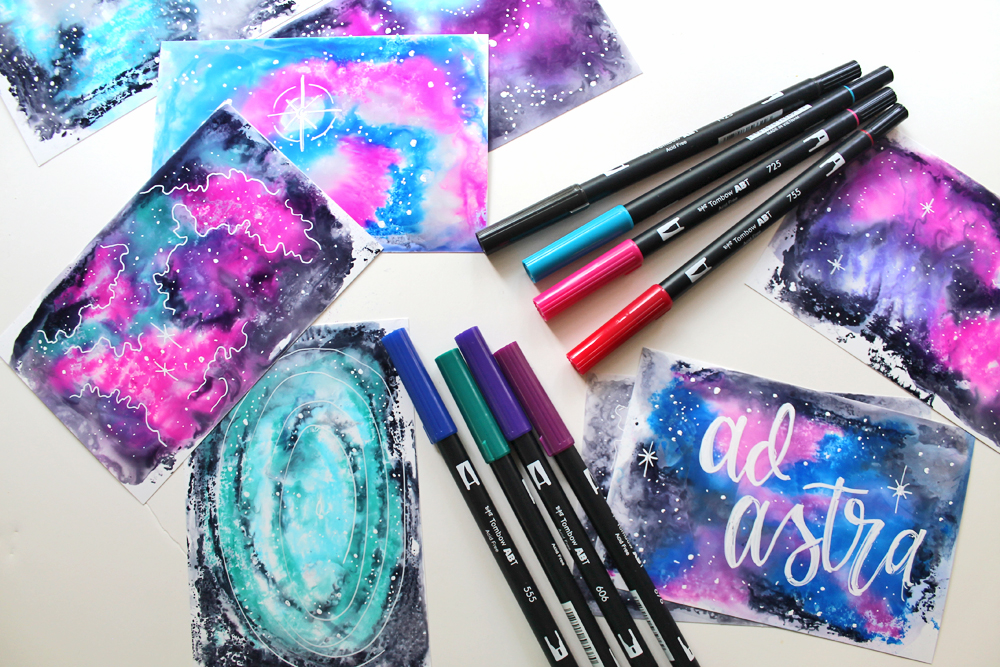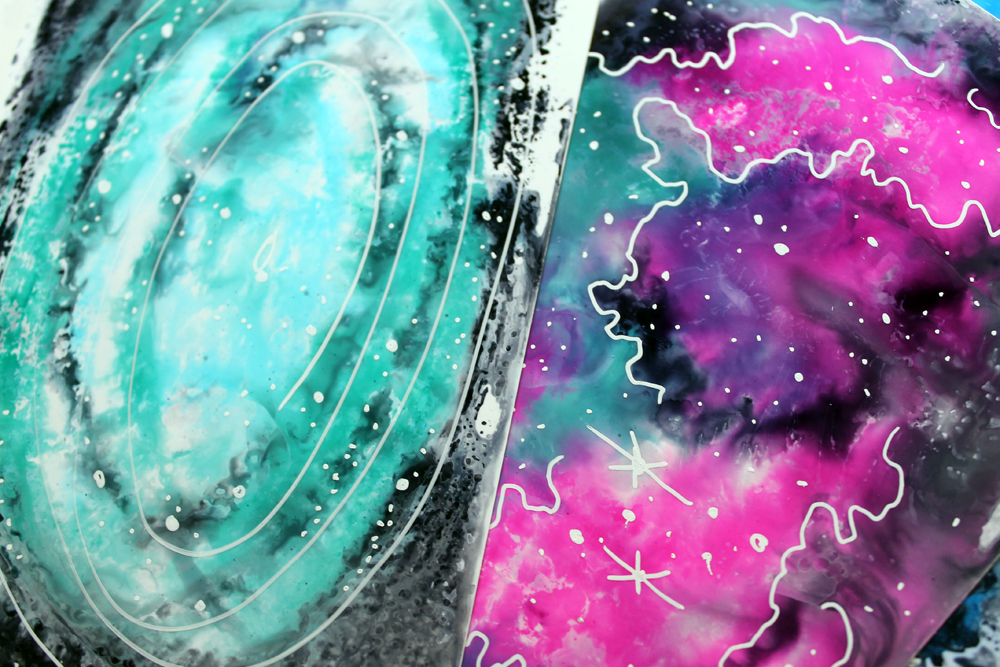 So are you team Galaxy or Team Pastel?  I love both, so I'll just say that I am #TeamTombow!
Grab the new Dual Brush Pen sets here: Galaxy, Pastel. Each set comes with 9 colors, and a colorless blender!!
To see more galaxies, come visit me on instagram, @katiebug92!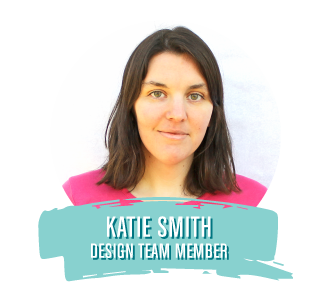 The post 10 Color Combinations To Create Magical Galaxies appeared first on Tombow USA Blog.