Originally posted @: http://blog.tombowusa.com/2018/05/15/create-five-fun-backgrounds-with-mono-edge-highlighters/
Good morning y'all!  Beth from @creativelybeth here on the blog today to share how to create five fun backgrounds with the brand new Tombow MONO Edge Highlighters!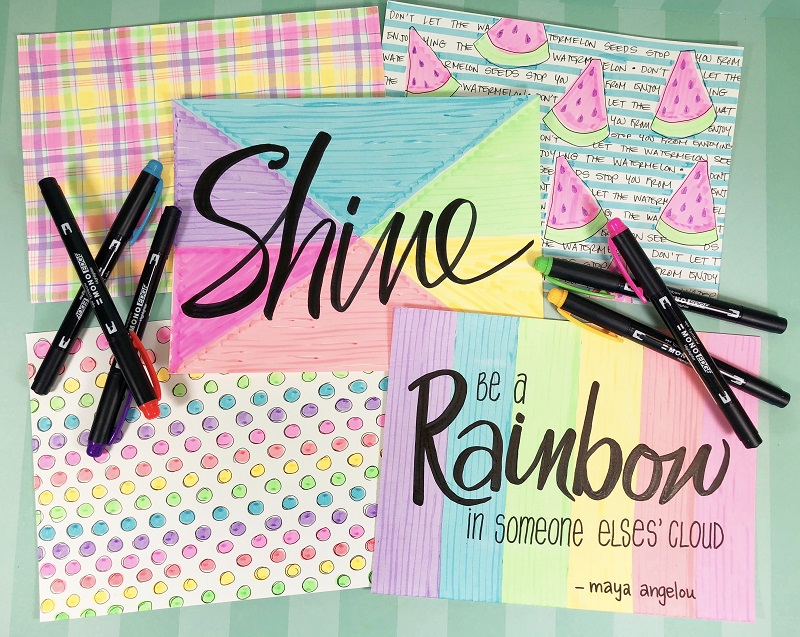 The new MONO Edge Highlighters are dual-tip highlighters that feature fast-drying ink. They have a broad chisel tip (3.8mm) on one end and an extra-fine bullet tip (0.8mm) on the other. The chisel tip features a unique design with a protective plastic sleeve that helps maintain the shape of the tips even when using metal rulers or stencils.
The unique, vibrant colors are perfect for color-coding and decorating planners, journals, notebooks and study guides. The fine tip works great for underlining text and writing margin notes. Fast drying ink doesn't smear when highlighted over pencil or ink and doesn't bleed through most papers. They come in a 6-pack and the colors are Golden Yellow, Pink, Yellow Green, Sky Blue, Red, and Purple.
Here's what you will need: Tombow MONO Edge Highlighers Tombow MONO J Drawing Pencil – 2H grade Tombow MONO Dust Catch Eraser Marker Paper Ruler Tombow Dual Brush Pen – N15 Black Tombow MONO Drawing Pen, 3 Pack – 01, 03 and 05 Tombow Fudenosuke, Brush Pen, Twin Tip Black/Grey Here's how to make it:
Before I start on a finished project, I always like to make a color chart and sketch out a bunch of ideas in my idea journal.  Here are two photos that show that process for me.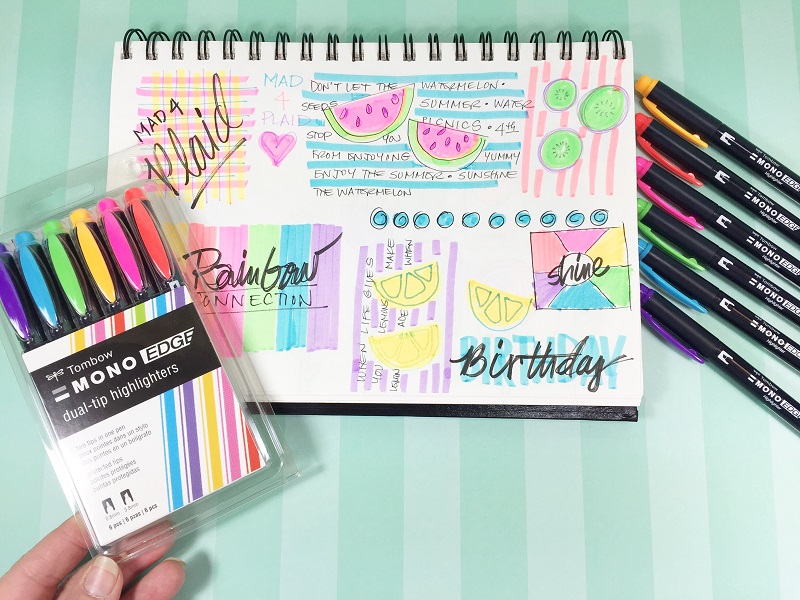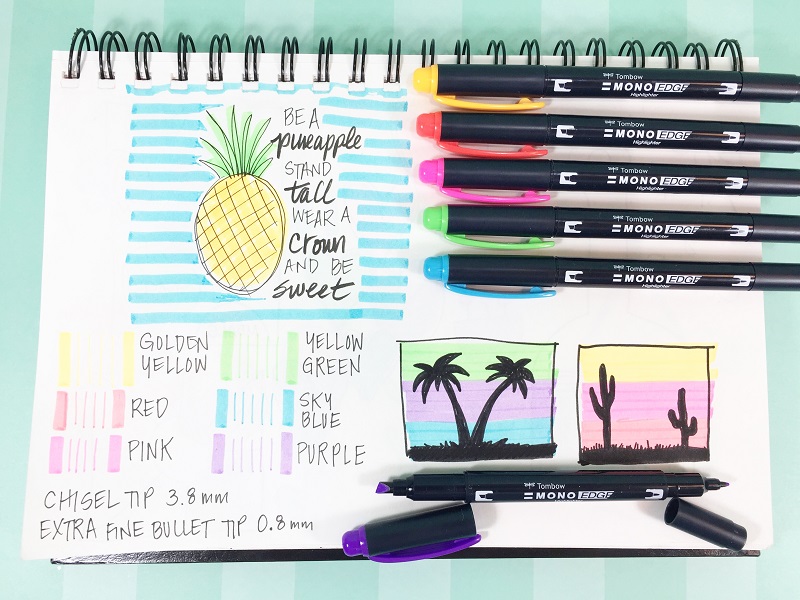 Fun Background One
Let's start with circles! Draw circles in rows with the chisel tip of the MONO Edge Highlighters. You can lay in some guidelines with the MONO J Drawing Pencil 2H and a ruler, but I prefer the imperfection. I made each line a different color, but you can mix it up to draw rows of random colored circles. Roughly outline each circle with MONO Drawing Pen 03. Neither my rows nor my circles are perfect, which is okay with me!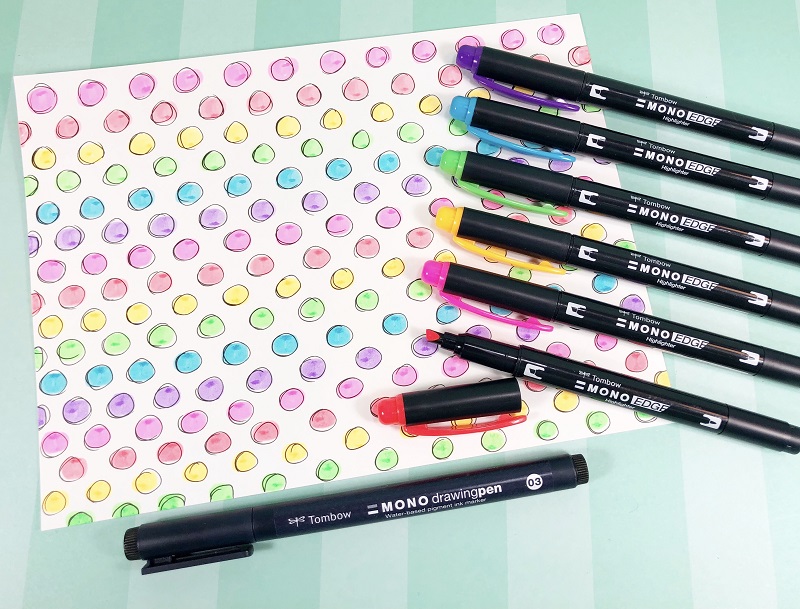 Fun Background Two
Next is a color blocked background. For this one I did measure, taking the length of the paper and dividing by six to obtain the width of each block. Then, using the broad edge of the chisel tip, fill in each block with stripes of color.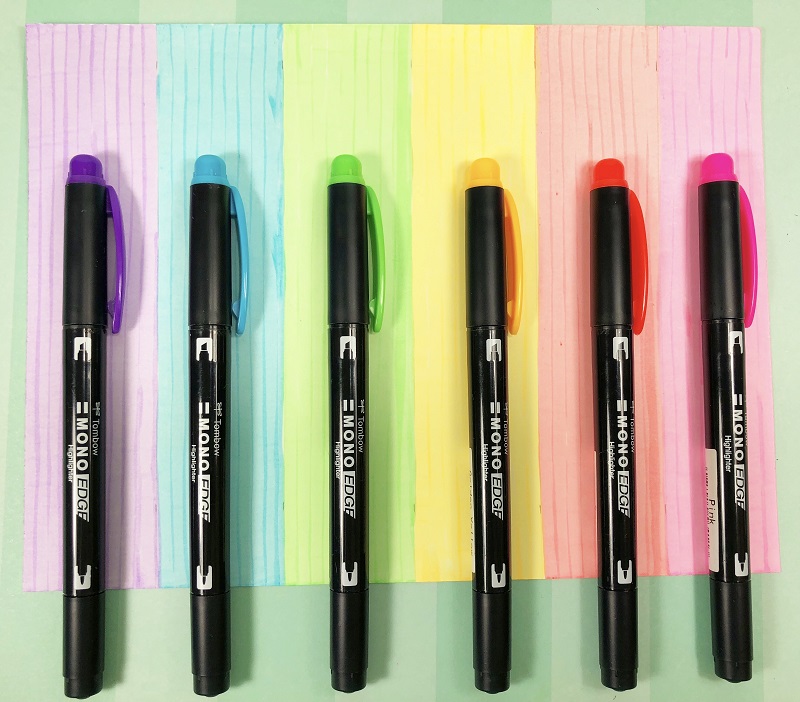 Sketch in the quote, then ink it in with Dual Brush Pen N15 Black, using the brush tip and the bullet tip. I use my Dual Brush Pens for all types of crafts, so I mark the ones I use for lettering with a piece of washi tape.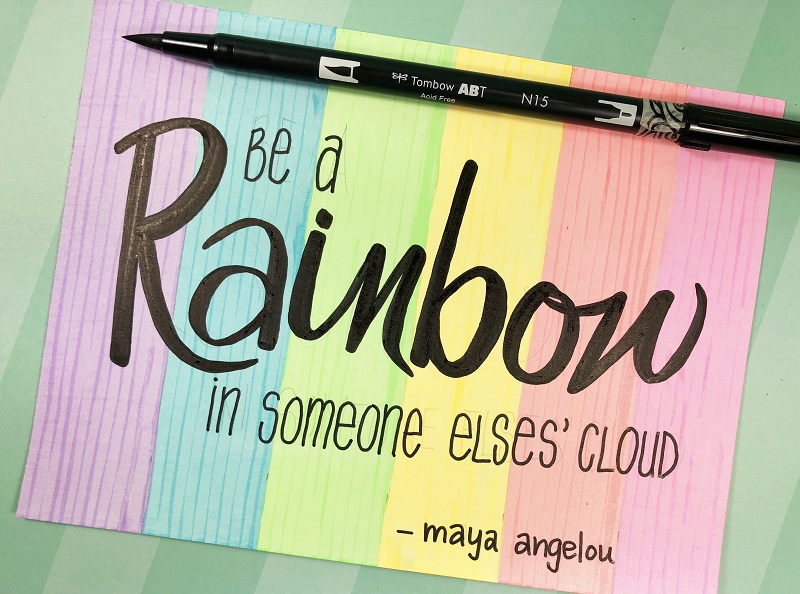 Fun Background Three
Stripes and watermelons are up in the number three spot! Start out with Pink triangles and add in the rind with Yellow Green using the chisel tip, then add Purple seeds with the extra fine bullet tip. Fill in with Blue stripes through the background. Add the quote and outline the watermelon with MONO Drawing Pen 01.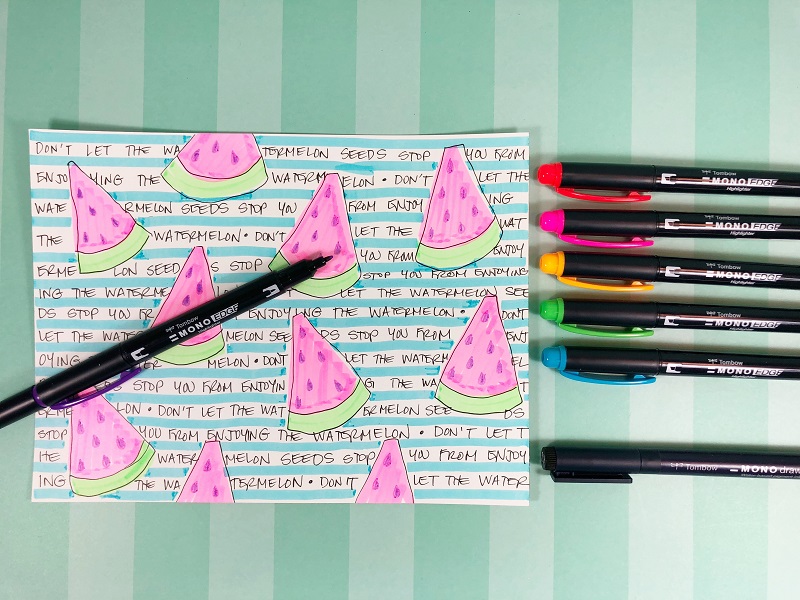 Fun Background Four
Up next is the starburst background! To divide the paper into six sections, measure the paper in half horizontally and then draw an X through the center. Color each section a different color, filling in with the chisel tip. Add a fun word or quote with Dual Brush Pen N15 Black.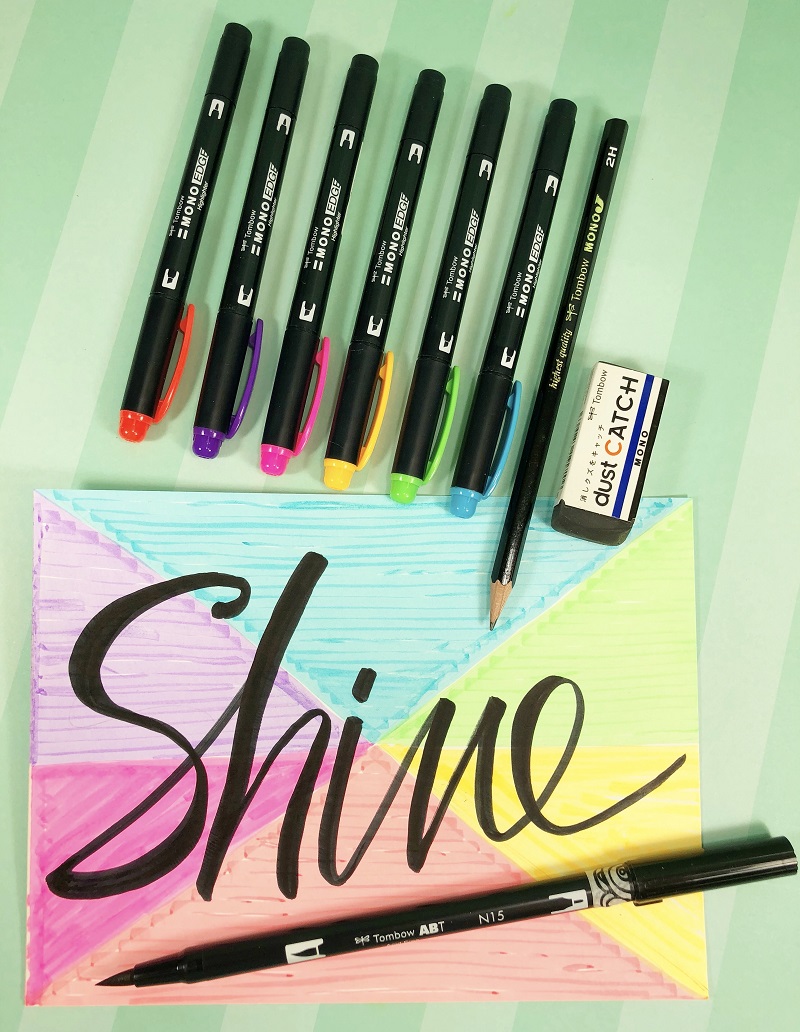 Fun Background Five
Finally, there is the plaid background. I have to say that this was my favorite! I used a paper napkin from Easter as my inspiration. Incorporating all six of the colors, the chisel tips, and the extra fine bullet tips. Experiment and have fun!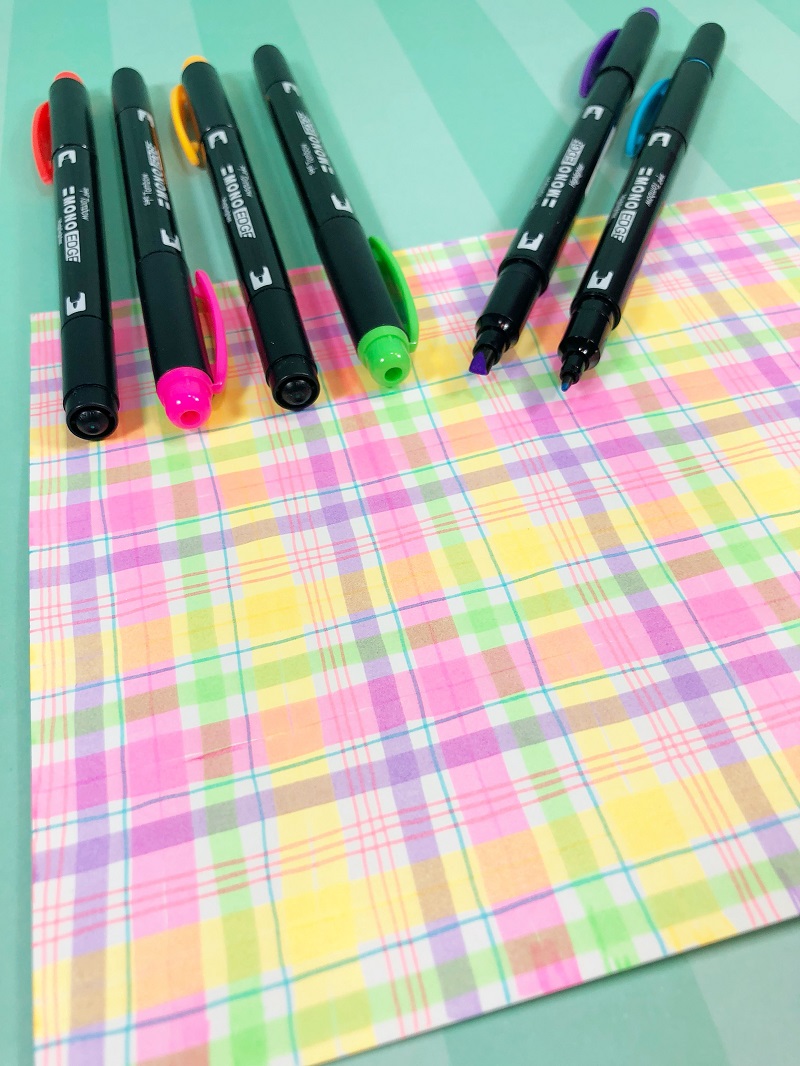 Here is a close up of all five backgrounds: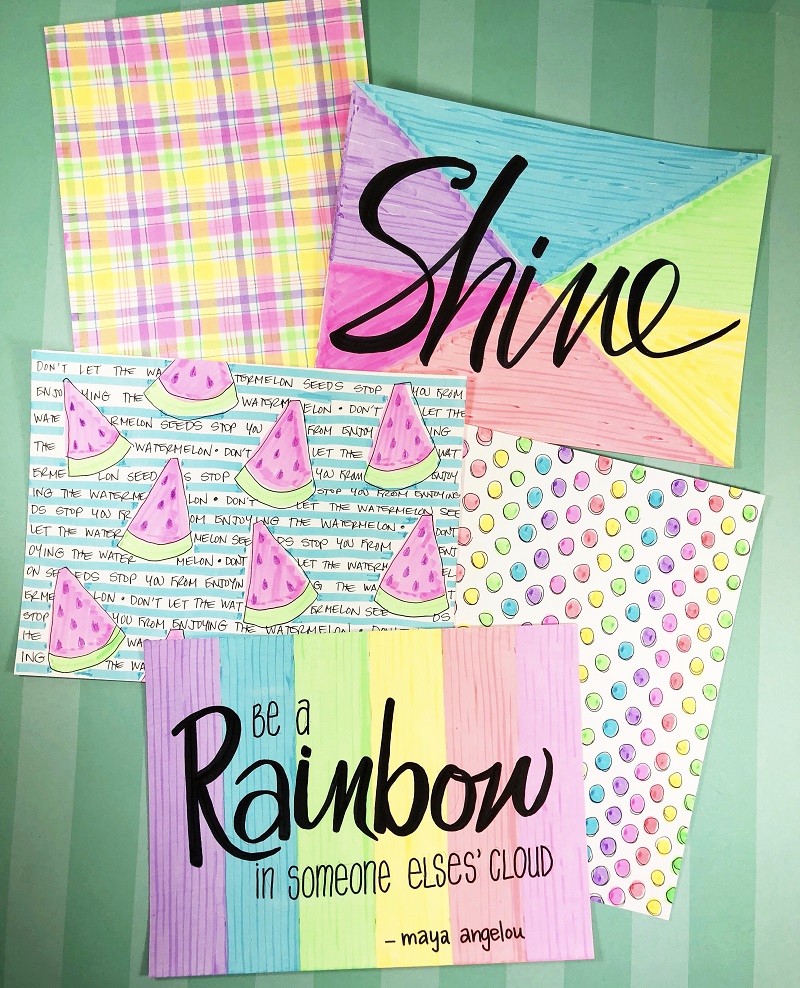 I hope you have enjoyed how to create five fun backgrounds with MONO Edge Highlighters and you will use my projects as a jumping off point to showcase YOUR Tombow creativity!
Thanks for stopping by!
Creatively, Beth
The post Create Five Fun Backgrounds with MONO Edge Highlighters appeared first on Tombow USA Blog.